Will Moon Mk10 One-Off, Hand Satin, CPM-S90V, Double Tanto, Emerald Twill, Glow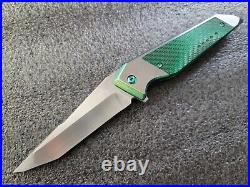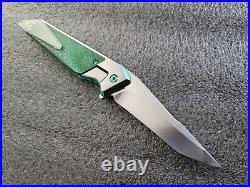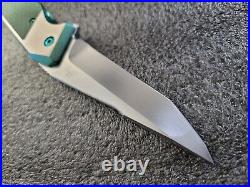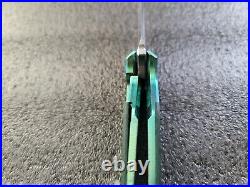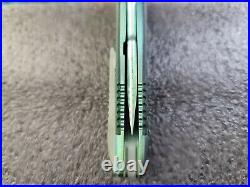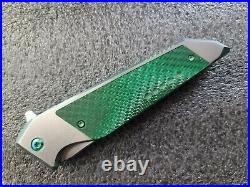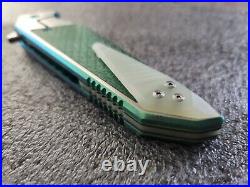 One of the last MK10s, custom made by Will Moon. It has an incredible number of upgrades and finishes done to it on top of all his signature touches. I'll list them all below.
It's a 1 of 1 and still in like new condition. I got it direct from the maker and it's been sitting since. It's not even fully broken in. Cracked ice finish on the spine. Tapered frame (stock is thicker at the pivot and thins out towards the clip).
Reflective orange-peel finish on the frame. Unique two tone green anodization on all the edges and chamfers green is the most difficult color to anodize for and he did it right. The color is even throughout the frame. Layered moonglow backspacer (middle piece glows when charged).
Fully sculpted jade G-10 clip. Emerald twill carbon fiber scales. Moonglow "Fusion Cell" on the front scale (also glows).
Interior jeweling on the frame (also green anodized). Signed blade (at the time it was made, he only did that for special builds).