Timascus Mokuti (Ti) Damascus Blade Pattern Very Rare Flipper Knife Custom Made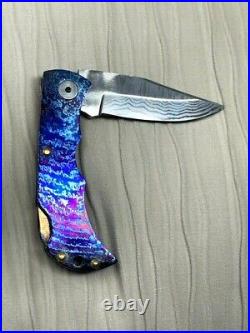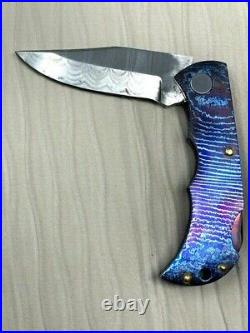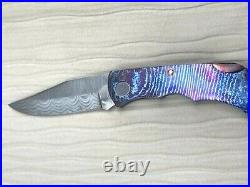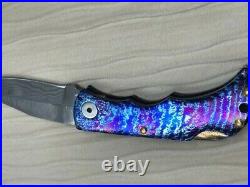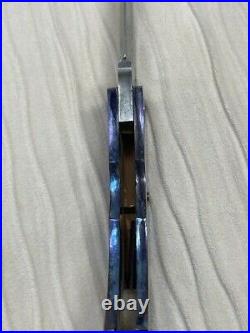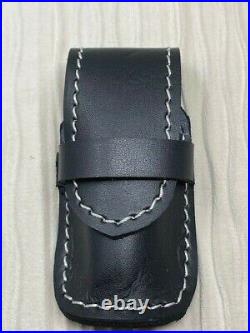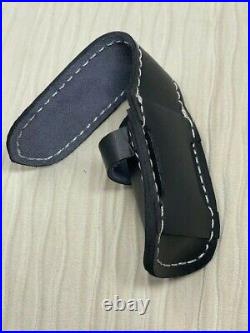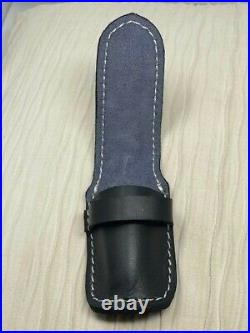 What is Timascus Mokuti (Ti) Damascus. Consists of two or more.
Alloys laminated and patterned resembling steel. Through the use of heat or anodizing. Alloy has the potential for.
A new color combination making. Knife unique and unlike others of its kind. You must know that colors will vary from the pictures slightly. Some with more hues of yellow, gold. Grey, blue, browns and Red.
1 x Damascus Knife with Mokuti Scales. 1 x Black Leather Holster. This unique Knife is made with the the ENTIRE SIDE SCALES in Mokuti (Timascus). Not just a small section.
You may have never seen this because it's rare and very expensive to create. These Damascus blades are of very high quality and rival or exceed any Damascus blade made from the 10 series with 15N20. These have been tested under a variety of applications which will offer professional performance in categories of toughness, strength (lateral stress) and edge honing and holding ability. (Mokuti) scales are made from premium steels where this colorful. Combination has taken years to perfect.
Look at the other listings with Mokuti where they only provide you a small section of Timascus but we provide you the entire knife. Notice the price difference too. We aim to allow regular folks to be able to afford this very expensive knife at a fraction of the cost. Clip Pinpoint Clipper Flipper Style.
Blade is 3 about the size of your... Well you get the idea (just making sure you are awake).
Total length is about 6 no comment - you wish! The Blade is Damascus - and the side scales are all MOKUTI (scales are where you old the knife but you already knew that). This knife comes with a black leather sheath that can connect to your belt.
This pocket knife is the "flipper" style where you use your index finger to slide down the blade notch on the back to open it up. Once opened it locks into place and will not close until you push the back side of the scale downwards slightly to allow the blade to close. In the Bolster area has a smooth roller for ease of "flipping". You're going to stand a little taller with this puppy in your collection. Please show it off as much as possible.
We only have two (2) that were made in this lot. More will come later but they take a while to make. This is what you get. 1 x Custom Made Damascus Knife with Mokuti (Timascus) Scales.
1 x Really Cool Leather Sheath for your Belt. Lots of "ooohs and ahhhhhh's" because you have a bad ass knife. The pictures shown are of the exact knife you will be receiving.
You should put oil on the blade to keep it in real good condition. Very much for showing interest in our Custom Knives brought to you by Santo's Revenge.