REPTILIAN engraved Copper scales for Spyderco MANIX 2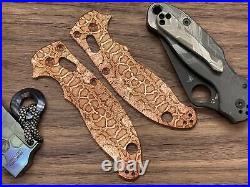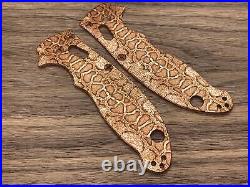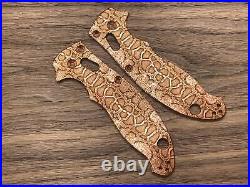 REPTILIAN engraved Copper scales for Spyderco MANIX 2. You will need a good torx bit set to remove the screws and pivots. The pivot can be tough to remove if you don't know what you are doing. There are small parts on the Para 2. COPPER: This pure Copper will develop patina over time.
Enjoy the time passing : Copper is a chemical element with the symbol Cu (atomic number 29). It is an essential nutrient in our daily diet. And, its antimicrobial property is becoming increasingly important to the prevention of infection.
INSTALL: You can also request the scales to be installed on Factory Knife as a custom order. Just send me a message.
PRECISION: Each MetonBoss item is precision CNC machined from a solid billet in my Anaheim manufacturing facility in California, USA. Even though most of them are in stock, some are only in machined form, so they still need to be finished to your order specifics - such as color treatment, patterns, etc. As there are thousands of variations you can select in my shop. If you need any item urgently, please ask me before ordering to be sure. Thank you and happy shopping, Sean.
We appreciate your support and love for MetonBoss EDC products, including Knife Scales and Hardware, Lanyard beads, Prybars, Flashlights, Pill boxes, Haptic Coins and Fidgets, Worry Coins and Spinning Tops!