Hen & Rooster Pocket Knife Sowbelly 4 Cuttin Horse Series Stag 3- 1095 Blades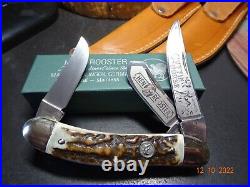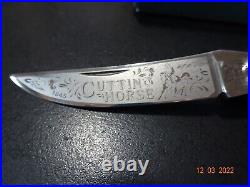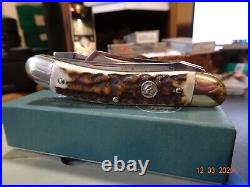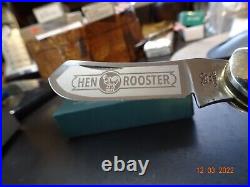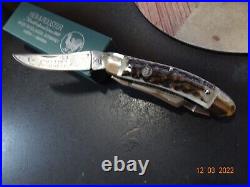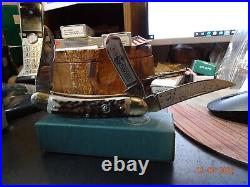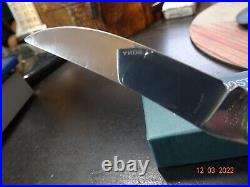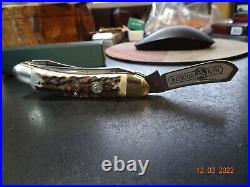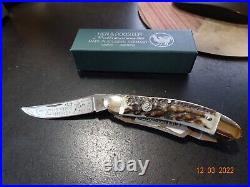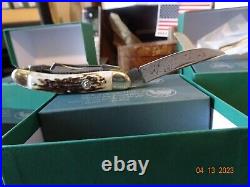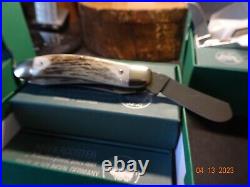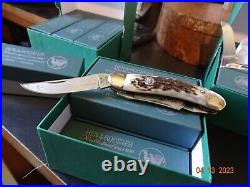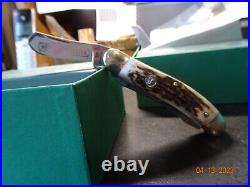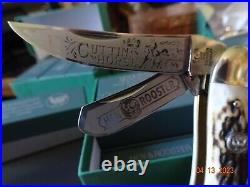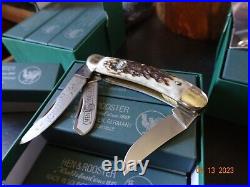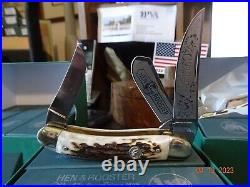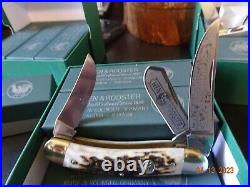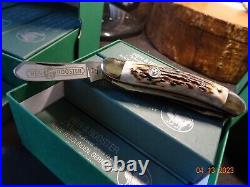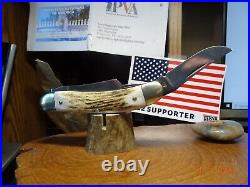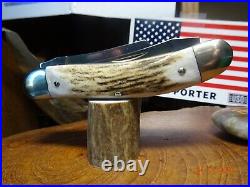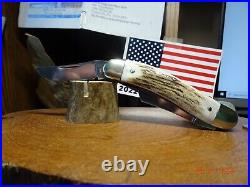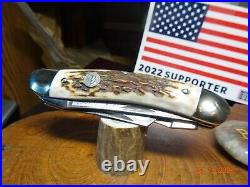 Here is a Beautiful and very long running series by Hen & Rooster THE QUARTER HORSE SERIES, A 4" SOWBELLY notice on the 3" Clip Blade there is blade etching of Cowboys / CUTTIN HORSE AND MORE ON ONE OF THE SMALLER BLADES IS THE HEN & ROOSTER LOGO. These knives are very well made with 2 huge pieces of stag. HEN & ROOSTER DEER STAG, 5 STAR STAG please look at the size and color of the scales, 4 Closed SOWBELLY Model # HRF-213DSCT, 100% Hand Made in Germany BERTRAM CUTLERY ROSTFREI Stamped right on the blades is German Stainless Bertram Cutlery Hand-Made No Spain, this has been one of the very best knives Hen & Rooster has made H & R Pocket knife of all of this series made in Germany. THIS MIGHT BE THE VERY BEST POCKET KNIFE EVER MADE BY HEN & ROOSTER, but there are others CATTLE RUSTLER, QUARTER HORSE, CUTTIN HORSE, and the MASTER QUARTER HORSE. These are the best of the best and yes we do have them all listed.
There are 3 different knives in the pictures. Rockwell tested 59 to 61 hardness and 3 super sharp blades. Two huge pieces of 5 Star Stag held in place with 3 brass pins it also has brass liners.
Plus look at the Rounded Bolsters Nickel Silver, the stag had to be tapper down to fit tight against them they give this knife an added touch of class on this wonderful pocket knife. H & R also makes this knife without the etching,,, and right now we have more H & R knives than ever. We want to have as many German made knives as we can because soon Pakistan will be assembling their knives. Plus you may want to check these out too, 212DS, 213DS, 232DS, 241DS, 251DS, 271DS, 273DS, 283DS, 302DS, 312DS, 313DS, 332DS, 351DS, 361DS, 412DS 521DS, 5038DS, 961DS and now many more plus we have red, green, blue, MOP, Wood, this is the most H & R Deer Stag handle pocket knives we have ever carried mainly because these are priced fair compared to other companies, and many of these are Hand Made in Germany and made very, very well, right now we have 149 different knives from H & R.
And most about 95% are German Made. Plus H & R has been making their pocket knives at the Bertram Cutlery Plant in Germany not sending them to Spain where they have most all of their knives assembled, so you're getting a Hand-Made German pocket knife. They still do have many made in Spain but lately with stag being the problem it is they wanted to be able to offer each their best and their very good knives.
Features: Blade Etching ·Stainless steel blades-3 ·Stag handle 5 star ·Brass pins and liners ·Nickel silver bolsters ·Brass shield ·3" Clip point blade ·2-1/8" Sheepfoot blade ·2" Spear blade ·Blade Thickness: 1/16" ·Blade Widths: 9/16", 7/16", 3/8" ·4" closed ·Made in Germany This shouldn't be a hard decision if your shopping for a new pocket knife you've got the fantastic craftsmanship of the Hen & Rooster Cutlery Plant of Solingen Germany. Plus some of the very best material that can be used to make a knife, a knife that will last for generations.
Be sure to add me to your favorites list.