DC Custom Folding Knife Mosaic Damas Steel 6AL4V Titanium Anodized White Pearl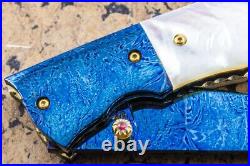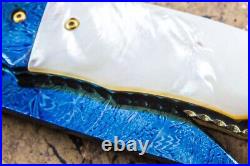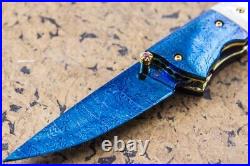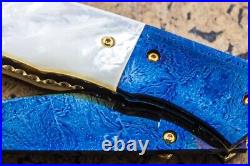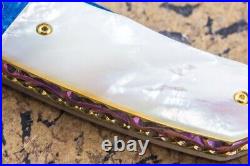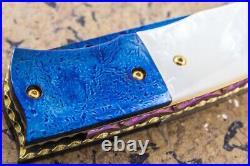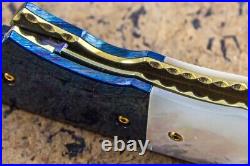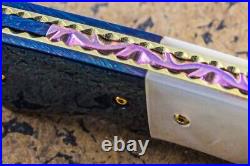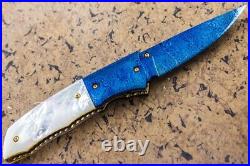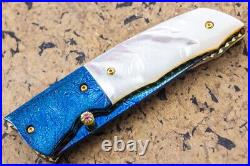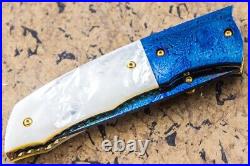 Don't Miss A Great Chance To Grab This. Stunning Knife Into Your Collection. How Come my knife become an Work of Art?
At the begining, my family and all family in U-Thai village had been making guns for living, that were an illegal business in Thailand. Therefore, the Thai government prohibited this business and encourages the community into knife business instead. My family is professional knife maker with more than 50 years of steel expertise, and I'm a 3rd generation from knife maker family.
I spent years of my life to produce custom knife for customer... But it's seem I missed something on my work. At the beginning all of my knife look so simple and not have any inner in itself. Then it's come to a question, How to make my work Different, Unique and become to "High Class Art"?
I stop to making on mass production and turn to spend more time on the design to improve looking and quality of my knife. Time was spending more and more for each one.. And then finally I GOT IT... After spending a lot of "efford and time" - it's give me a great reward and bringing the "Unique and Class" to my work. After that moment, I got to work more and more - put new creativity - and after a couple of years, I had completed to create the Knife with Art Condition...
And many more of them followed sinces.. Well Design Knife Art You will get a greatest Custom, Refinement, Unique and Stunning Design Work of Art and include it into one of your finest knife collection. And yes I pass all these. I will not take any chance to ruin my reputation.
This will guarantee that "All My Work Will Always Stay Above Standard". And you may use to hear that "TIME WILL PROVE EVERYTHING". Yes, if I'm not that Best. I cann't stay in this business such a long time like this. If you are not satisfy to my work, just return it and I'll return 100% of Ending price as the same. Pricing Under Actual Value You may notice that wag cost in Thailand is cheaper than your country. This will give you a great chance to own great knife with Price Under Value. Natural Premium Handle The material that use to make the handle will use premium piece. Several of them will use Abalone, Mother Of Pearl, Stabilized Wood, Rock, etc...
This will create the luxuary look for your knife. Titanium as Liner Frame and Back Spacer The Titanium is the same material that use to create the air plane.
It's harder and lighter weight than normal stainless steel. This will help you reduce the load when carry knife with. Also It's can give a great color on the surface and it's usually use in the luxuary knife. Exotic Handle Material Some time we will use Human made for handle - such as Mokume, Kirinite, etc...
This will give you a different touch, look & feel for the knife. Also the Value of it will increase. Eastern Touch Style My Work have an East Culture Touch. You will get the complete difference design that usually found in your home town. In my work, it's contain a great looking of eastern style.
This will give you a Unique and Style Folding for your Collection. I think you should see something to prove on my words and Nothing better than Real Feedback From Real Customer. Not only one member but...
Many of Them Share me " How They Impress To My Knife ". See below for some to Prove all my words!!! (for privacy purpose, I have to sensor name of sender). I Want To See Your Knife And Its Detail Now!
Of course, All the images and details are describe here. But I'm very confident that this Work Of Art will " GONE AWAY SOON " IF YOU ARE NOT DO ANY ACTION!
After this knife across to your country. Do You Really Know How Much Does It Cost? Blade Material: Color Damas Steel Bolster: Color Damas Steel Size: Approximate. Jewelry Thumb Stud: Brass inset with Garnet Jewelry on Handle: - Jewelry on Back Spacer: - Handle Material: White Pearl Back spacer & Frame: 6AL4V Titanium Anodized. Screw: 24K Gold Plated Screw. Note: Necklace does not include with item, just use to decorate in photo. Note2: No leather sheath included. Use it to cut lemon, lime or any kind of fruit that has sour or acid taste. It will permanent harm the color on Steel. Use any chemical cleaner, it will harm to the color on surface. Just use clean and dry soft fabric and coat with oil after use. Use it like tactical knife.
It is collecting knife not for tactical use. 1.5 - 3 Weeks. A Status Update And Promotion Notice From My Store. And you will get an Update News from my store, including Stunning Promotion or Event for Stuning Knife.
Hope to see you around and become your service.