Custom Taweesak Knife 2 Colors Mother Of Pearl / Case None Better Museum Quality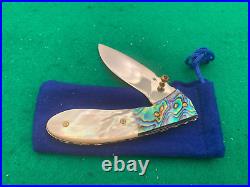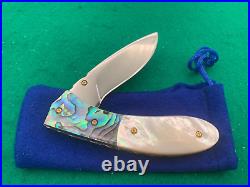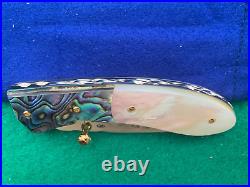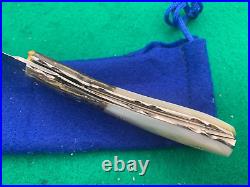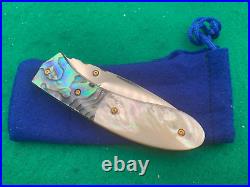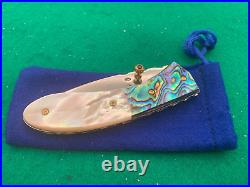 CUSTOM KNIFE NONE BETTER RARE TAWEESAK (BEST) MOTHER OF PEARL NEW. THIS IS A NEW BEAUTIFUL EARLIER MADE CUSTOM KNIFE MADE BY TAWEESAK. AS ARE ALL OF HIS CUSTOM KNIVES, THIS ONE IS NO DIFFERENT IN THE WAY OF QUALITY, BEAUTY AND ONE OF A KIND.
ONLY THE BEST MATERIALS FOUND ARE USED ON HIS CUSTOM KNIVES. NO SECOND QUALITY MATERIALS EVER USED! THE KNIFE MEASURES 3-3/4" CLOSED AND 6-1/4" OPEN. I COULD NOT GET GOOD PICTURES OF THE BLADE, BUT BE ASSURED, AS WITH ALL HIS BLADES IT IS AS NICE AS THEY COME, RAZOR SHARP, HOLLOW GROUND HIGHLY POLISHED 440C STAINLESS STEEL, WITH A MODIFIED DROP POINT. THE BLADE IS STAMPED WITH HIS INSIGNIA ON THE TANG.
THE THUMB STUD IS BRASS WITH A RED RUBY GEMSTONE. THE HANDLES ARE GORGEOUS THICK CONTOUR CUT AND BEVELED WITH GOLD SCREWS AND THE MOST BEAUTIFUL MATCHING WHITE AND ABALONE MOTHER OF PEARL I HAVE EVER SEEN!
LOTS OF COLOR BRILLIANCE, NO CRACKS, CHIPS OR ANY IMPERFECTIONS. THE HANDLES ARE THICK CONTOURED WHITE MOTHER OF PEARL AND THE BOLSTERS ARE THICK BEAUTIFUL CONTOUR CUT ABALONE MOTHER OF PEARL (ALL THE MOTHER OF PEARL IS GRADE AAAA) WITH 2 DIFFERENT MOTHER OF PEARL COLORS (IT WAS IMPOSSIBLE FOR ME TO GET ALL THE COLOR BRILLIANCE OF ALL THE PEARLS). THE LOCKING SYSTEM IS A LINER LOCK. THE OPENING AND CLOSING ACTION IS AS SMOOTH AS SILK, ABSOLUTELY NONE BETTER. THE LINERS ARE HIGH POLISHED 440C STAINLESS STEEL, PROFESSIONALLY FILED 360 DEGREES, ALL THE WAY AROUND.
THE BACKSPRING IS ALSO HIGH POLISHED 440C, ROPE FILED IN BETWEEN THE LINERS. THE KNIFE PICTURES DO NOT SHOW ITS VIBRANT COLOR BRILLIANCE WITH A LOT OF TIME AND PROFESSIONAL WORK IN IT A PERSON COULD GO A LIFETIME AND NEVER SEE ANOTHER AS BEAUTIFUL AS THIS ONE! ALL HIS CUSTOM KNIVES ARE A REALLY A HARD FIND AND COMES WITH A PROTECTIVE SLIPCOVER. FEEL FREE TO ASK ANY QUESTIONS. I HAVE LISTED THE 3 LAST PICTURES OF MORE I WILL BE LISTING.
I LIST WEEKLY, KEEP WATCHING FOR MORE. CHECK BACK SOON THANKS FOR LOOKING!