Citadel Handmade Trident Folder Knife Bamboo Scales 8 OA DHN7 Steel NEW Superb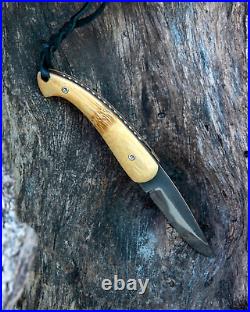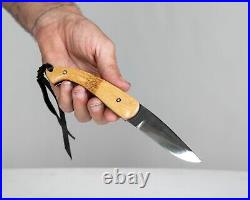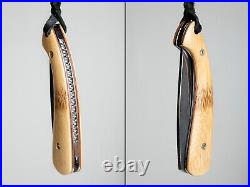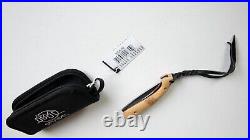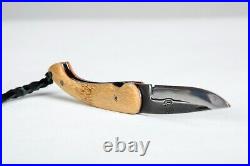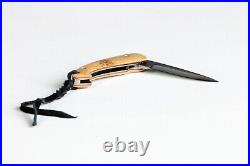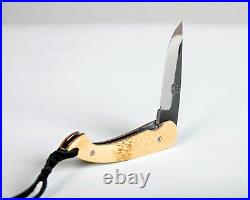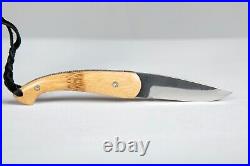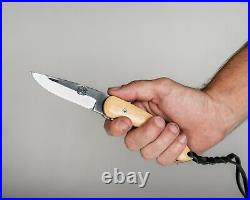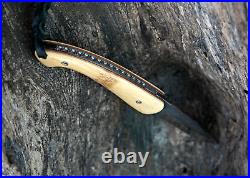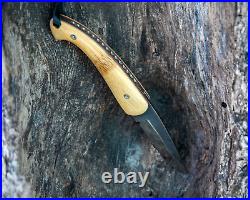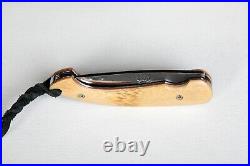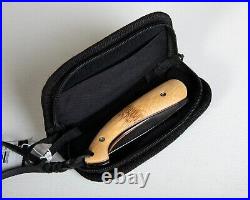 Trident Folding Knife, 8 Overall, Bamboo Scales. Drop Point - Everyday Carry , Hunting, Fishing, Camping, Wood Carving. Forge Blackened + Polished DHN7 Blade. Braided Leather Lanyard, Premium Nylon Carry Case. Hand Crafted by Citadel Forge.
Citadel's High End Knives are hand-made by master artisans in Cambodia. They combine modern materials with old school hand craftsmanship and traditional techniques to make a superior blade. The workmanship is just phenomenal. The Trident pattern lends itself well to this collectible pocket knife featuring lightly polished bamboo scales that make each blade unique. The high carbon blade (DNH7 from Austria) is hand forged and differentially hardened in the Japanese style by the skilled smiths at Citadel.
The bevel is highly polished and zero ground (no secondary bevel) creating a long lasting and extremely sharp edge. The flats are untouched after the forging, displaying the brut de forge scaling left by the blacksmith's hammer blows. The large handle fills the hand nicely without taking up a lot of pocket room. Hand carved detail work on the spine and back spacer complete this collectible package. A padded nylon case with an embroidered Citadel logo is included.
Made by Citadel Knives and Swords, Cambodia. Blade Length: 3.5" Handle Length: 4.75" Weight: 4.6 ozs Blade Steel: DNH7. Comments : Beautiful sleek design with solid materials and construction. The bamboo scales are lightly burnished and sealed but still retain a natural texture with subtle banding and colors. Nice braided leather lanyard, custom filework on spine and red spacers all add to the beauty of this design. I'm a collector and a weekend warrior, active in local groups and Renaissance Fair.
I sell what I own and can recommend.