7.5 Damascus Pocket Knife with Engraved Copper Handle Custom Hunting Fold Knife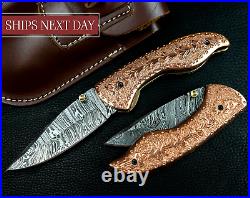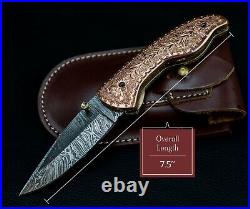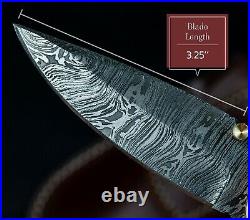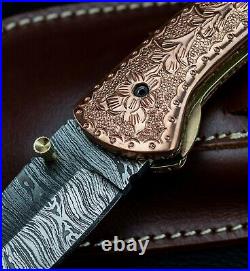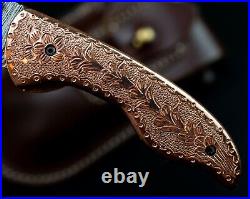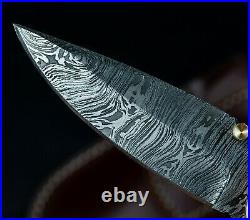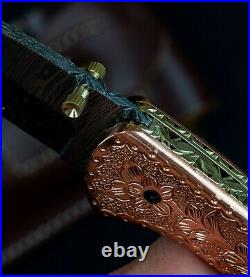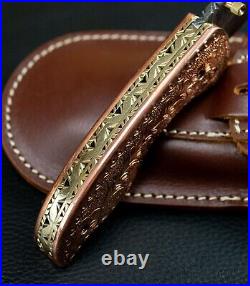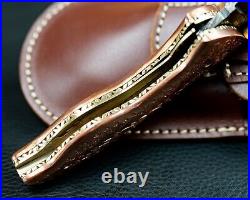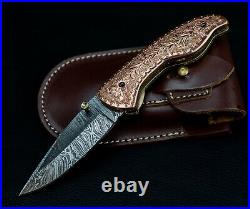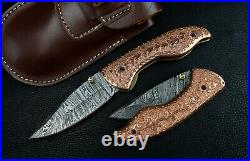 7.5 Damascus Pocket Knife w/ Engraved Copper Handle Custom Hunting Fold Knife. Material of or product : Damascus Steel, Genuine Leather Sheath, Engraved Copper Handle. Weight of this product : 12 Ounces. Color of this product: Silver Blade, Full Damascus Folding Knife, Engraved Copper Handle.
1 x Hand Forged Full Damascus Knife With Engraved Copper Handle. 1 x Leather Sheath Belt Cover. Thank you for visiting our shop. This item is hand forged!
All our knives are handmade similar to the photo, differences as such as color and patterns of the natural materials used will differ somewhat because these are all natural materials. Every item will be considered as an original because no one item is ever identical to the other, they are handmade and natural materials are never identical. The combination of layered hard and soft steel creates blade flexibility, toughness and produces invisible serrations on the blade that aid cutting. High Quality Folding Pocket Knife Blade Made of Authentic Damascus Steel. Heavy Duty Damascus Knife: Made of hand forged Damascus blade; composed of 1080 and 15N20 high carbon steel, folded 5 times, starting from 9-layers into a ladder pattern of 288 layers.
Shatter proof to withstand high performance hunting task. Super Sharp Blade: Say goodbye to rusty dull knife. This Damascus steel knife has razor-sharp blade, exceptionally stringent to tackle variety of stressful tasks.
Predator hunting, wood cutting, military drills, all can be done smoothly in a quick hand move. Ergonomic Rare Black Bone Handle: Exotic handle made of real rare black bone, designed with detail attention to offer comfortable grip and control of hand, making tough job easier. Black bone handle looks traditional and have anti-slip benefit. Durable Quality: Premium quality Damascus bowie knife is tarnish proof and rust resistant to serve you for years to come.
A trustworthy hunting knife that ensures excellent performance in time of need, from survival to wood-cutting all can be done. Safety Cover: Our survival knife is indeed a piece of art made by skilled knife maker. Comes with a sturdy leather sheath with integrated belt loop and snap lock to ensure safe carrying. Masterpiece Gift: it is more than a knife, a premium collectible. Designed and made by knife experts. Solid, sharp and really appealing! Impress loved one with great taste of choice. Gift for men and to all those passionate about hunting and camping out.
Note: This is not a gift for young ones as they might mishandle it. Add to cart now and enjoy your very own cool survival tool. Perfect for hunting, fishing, hiking, camping, boy scouts, the outdoors, kayaking, boating, backpacking, canoeing or anything for the outdoors! To keep your Damascus blade clean and rust-free, do not store the knife in the sheath for long periods (1 month or longer) and apply some sort of oil to the blade once a month such as mineral oil, gun oil, motor oil, etc.
As some countries do not allow products to go through from their custom. If custom in your county hold the item than we are not responsible for the loss of your item. We will do whatever reasonable to resolve your problem as long as we are given the opportunity. When you receive our knife, you need to wipe it down with a clean soft cloth. We enclose recommended knife care instructions.
Please work with us and we promise to take care of you. We don't sell knives to anyone under the age of 18! Please check your local laws about knife restrictions!