Laguiole en Aubrac 6 pcs. Set, steak knives, Aubracien, Made in FRANCE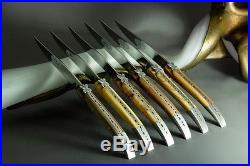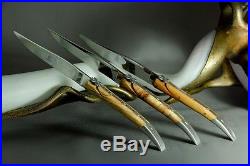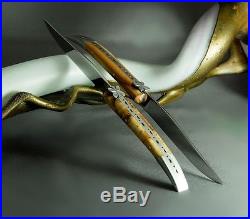 Laguiole en Aubrac 6 pcs. For years, we have been the leading online store in Europe (Germany) and have the largest selection of Laguiole knives.
Now we are starting here in America where we also hope to inspire people with this beautiful tradition. Laguiole en Aubrac 6-piece set of steak knives, Aubracien - Bois de France The knives by Laguiole en Aubrac combine the long tradition of knife makers in perfect symbiosis with a penchant for perfection, while the price, though, can be measured in worldly standards.
The love of the product becomes visible in every single hand-bevelled, hand-smoothed curve and bend of the handle as well as in the harmonious choice of wood types or horn bolsters. For these steak knives, 6 types of exotic wood were used. The blades are made from stainless steel, are mirror-polished and razor-sharp. As is for all genuine French Laguiole knives, the hand-made engravings on the spine and the flower instead of a bee are a must, including for the fine cutlery. These knives are carefully manufactured by hand and reflect the French tradition and dining culture.
Knife handle can differ from illustrations. The variation in grain, natural growth and markings left by animals or weathering gives each handle a unique quality.
Therefore, the images of our products serve as visual examples; the actual knife you receive may vary slightly in appearance. Every cutler whose knives are offered through Original-Laguiole fulfills the strictest business regulations of the CITES conference for the protection of species for the use of tropical woods, horn, coral and ivory in its grip plates. Handle made from six different French woods. Delivered in a gift box.
6 steak knives by the cutlers of LAGUIOLE EN AUBRAC. Handle scales are made from six different types of French wood.
Walnut/Noyer: The European walnut tree - aka Persian or English walnut tree - is mainly native in the warmer areas of West and Middle Europe - to the countries neighbouring the Mediterranean and Black Sea. It sometimes has a wide, light-grey sapwood of 30 to 70mm, which darkens when the wood is steamed. The heartwood is matt brown to black brown. The wood of the walnut tree is easy to saw, plane, mill, turn, carve, nail and drill, but somewhat difficult to split. It is an excellent decorative wood for all interior work and for valuable furniture, panelling, parquetry, seating furniture and turning work. The walnut tree reaches a height of 15 to 25m amongst dense tree vegetation of up to 30m.
Its height increment ends with approx. 60 to 80 years, and it can reach an age of 150 to 160 years. The wood of the Persian, English - or in Great Britain - Common Walnut is a much sought after and its usage is restricted to premium-quality items.
Plum Tree/Prunier: from Middle to East Europe, the Balkans. Originally, the plum tree probably comes from the area of the Caspian Sea. Rather significant is the partly very strong purple shade that fades with time.
The wood has a homogenous structure and many fine, hardly visible pores in addition to closely spaced, fine vascular rays. Plum trees only reach an average height of approx. 2m with a diameter of around 300mm. Plum tree wood is very hard and firm and a little brittle.
In the open air, the wood is not very long-lasting and shrinks rather strongly. Positive features, though, are that it is outstandingly easy and clean to work with and especially suitable for turning and carving. Plum tree wood is very decorative, but can be used only within limits because of its small dimensions.
It is used for turning work and carving, and additionally for spigots and knife handles. It is also utilized for building wind instruments, and as veneer for smaller furniture or for inlay work.
Apple Tree/Pommier: Apple trees have divaricating branches on a relatively short, compact trunk and a wide crown with dense foliage. It can reach a height of up to 10m. Apple trees have been known in the Middle and North of Europe since the Stone Age. A sunny position without spring frost are pre-requisite.
The heartwood is brown-red, very hard and very valuable. The sapwood is wide and of a light red colour. The wood of the apple tree is hard, dense, difficult to split, often has twisted fibres, shrinks strongly and is not resistant to humidity.
The wood dries only slowly and tends to cracking and warping. The annual growth rings are easily discernible.
Apple tree wood can be well manufactured into toys, weaving shuttles, wooden screws or veneer for furniture. Juniper/Genevrier: Juniper wood has the scent of fine pepper, courtesy of the tree's roots reaching deep down into rich soil. It is a rare kind of wood which makes the knives even more valuable. Juniper belongs to woods which are distinguished by their exceptionally high natural durability. It is highly weather resistant i. It is not susceptible to wood destroying fungi and it is resistant to wood colonising insects. Juniper wood is much sought after for the manufacture of craftworks, including turning and carving because of its uniform, dense structure, its decorative colour and grain and its pleasant, lasting and refreshing aroma.
These crafts include - amongst others - plates, cups, boxes, spoons and forks. It is also highly sought after for cabinet making, to manufacture extravagant small pieces of furniture, delicate inlay work and panel fillings.
From its thinner stems and branches, walking canes, handles for whips, pipe stems, cigarette holders and toothpicks are made. Furthermore, it can be used to cure meat and meat products, as well as fish, because such foods inherit a unique flavour. Olive/Olivier: As a European hard wood with a high proportion of essential oils, olive wood is mainly imported from the Spanish area of Andalusia. Its structure and grain is very distinctive. Through its high oil content, olive wood is especially hygienic and antibacterial.
It is characterised by a high moisture resistance and is one of the heaviest, hardest as well as most durable woods available. Boxwood/Buis: The Buxus wood type, or boxwood, has been fascinating people from all cultures because of its slow and steady growth, its long lifecycle (the trees can verifiably reach an age of 600 years), its resilience to diseases and the unique qualities of its wood. Boxtree is one of the most rare and expensive types of wood - an intensive search for a substitute wood is still under way. It is one of the hardest and heaviest of all European types of forested wood available on the market. The wood is dense, very hard, elastic and durable, but not weather-resistant.
Boxwood works, turns, carves and polishes well, but shrinks considerably and is difficult to split. Laguiole Knives MADE in FRANCE. The knives made in the Aubrac are evidence of the highest traditional craftsmanship. The item "Laguiole en Aubrac 6 pcs. Set, steak knives, Aubracien, Made in FRANCE" is in sale since Friday, August 29, 2014.
This item is in the category "Collectibles\Knives, Swords & Blades\Collectible Folding Knives\Modern Folding Knives\Custom & Handmade". The seller is "original-laguiole-knives" and is located in Dallas, TX. This item can be shipped to United States.
Brand: Laguiole
Country/Region of Manufacture: France